Restaurant Industry Laundry Solutions
-Pick Up & Delivery-
What Do You Need Restaurant Laundry Services For?
No matter what kind of business you have in the food industry, fine dining, country club, cafe, or catering company, you need to keep your linens clean. You are already preparing food orders, satisfying customers, and taking care of your employees – what about the linens? 
Although every food business needs clean linens, there are different types of services for each.
Fine Dining
Fine dining requires a clean, professional atmosphere. The table cloths must be spotless and pressed to remove any sign of wrinkles. This is also true for napkins. Removing food or wine stains from table cloths or napkins can be difficult without the right tools. Always keep in mind that the employees need to have clean and ironed uniforms as the appearance of your restaurant and staff are just as important as the food. Don't worry! We have the solution for you!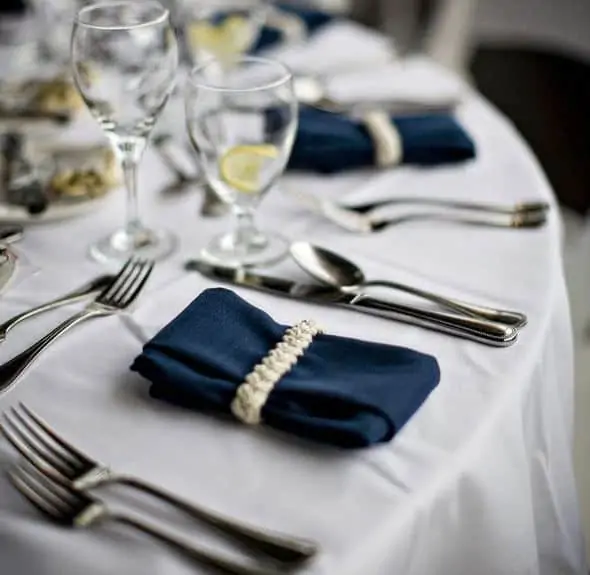 Country Club Dining
Country clubs are similar to fine dining. A high-class and luxury atmosphere is a requirement, this includes the dining room. Table cloths, napkins, uniforms, and cleaning cloths all need to have the right look and feel to keep the club patrons coming back. That means using the proper cleaning treatments.
Catering Companies
Those involved with a catering company know how crazy preparing orders can be. With all the fast-paced cooking and transporting, there is almost always a spill. We can take care of those aprons covered in ingredients and make sure your presentation table cloths are pristine. 
*ATTENTION TO ALL IN THE FOOD INDUSTRY*
No matter where your kitchen is or what your kitchen makes, there is always a need for a clean, well-kept appearance. Keep in mind, the customer is what keeps your business alive. When you have repeat customers, everything runs smoothly. Keep your area and atmosphere clean and professional to steer more clientele to your business. 
We Do Laundry, You Do Life!