Mandy's Laundry - Laundromat Near Me
$5 in Wash & Dry and a $3 Laundry Card, just for trying us out.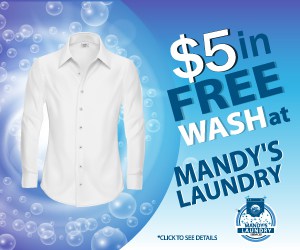 Register to receive your FREE laundry card ($3 value) with $5 worth of wash and dry already loaded! 
$8 FREE (first time visitors only)
Enjoy Mandy's Laundry Wash & Fold, a large, bright, and clean laundromat conveniently located in Van Nuys, just off Van Nuys Blvd, nestled just east of the 405 and about 5 blocks from Woodley park, this laundromat is the perfect solution for busy residents and anyone looking for a fast and convenient place to do laundry in Van Nuys, CA.
Our Washers Wash Better at Mandy's Laundromat Near Me
Whether you live in an apartment that doesn't have washer/dryer hookups, or with a bunch of roommates who are hogging the facilities, we understand.
There are many Americans who use their local laundromat to get their laundry clean, and while there are probably a lot of local laundromats near you, we want to be the laundromat near you that stands out from all those other guys. That is why we have invested in our facility. We have over 100 new machines that utilize the Laundry LUX advanced Oxidation Laundry System.
This video shows how the Laundry LUX system works to make your laundry cleaner than if it were disinfected in a hospital environment.
The LUX Laundry System supercharges the incoming water, offering cleaning power 500 times more potent than hot water and bleach for optimum stain-fighting and sanitation levels.
The LUX laundry system is EPA registered to kill emerging pathogens, and USDA certified organic.
No other system could provide this, including ozone systems.
Here are some benefits you will get when you visit Mandy's Laundry or use our free pick-up delivery service.
All washers are automatically disinfected and sterilized after each wash. It removes Algae, Bacteria, and mold.
You will see all your whites and color loads are Brighter and Softer. This means your fabric will last up to 20% longer and you'll see a 10% reduction in drying time – and most importantly it is safe for you and your family.
The LUX UV-C Light Laundry System can safely kill 99.999% of bacteria and viruses, including SARS-CoV-2, the virus causing COVID-19 superbugs, bacteria and viruses such as MARSA , CDIFF, E. Coli, Staphylococcus, H1N1, HIV, And many more.
Simply put, our machines wash better!